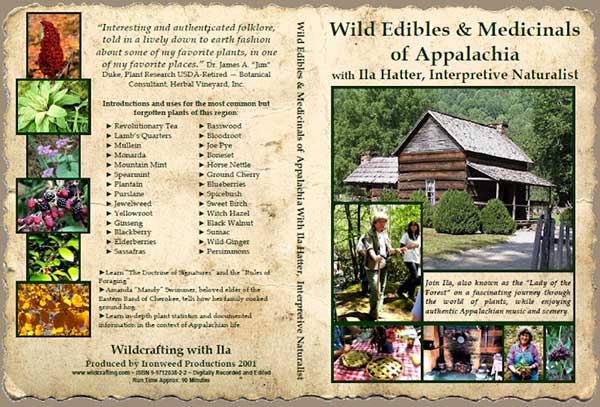 3 Pack DVD – Summer Series 1, 2 & Autumn 1
Price: US$ 35.00
Includes all 3 titles and shipping
Item #V113
Wild Edibles Summer Video 1
Step back in time for a roadside ramble. Listen as Ila Hatter, the "Lady of the forest," explains which plants can be used as medicinals. Hear the enchanting tale of New Jersey Tea and how Martha Washington revived George's troops, enabling them to beat the British after serving the hot liquid to the frigid soldiers. From sore throat soothers to insect bite relievers, join Ila as she tours the forest in search of these indigenous healers. Learn the very valuable lesson that Ila lives by: "Everything that is harmful in nature has its antidote growing nearby, if you but recognize it!"
With authentic Appalachian music in the background, Ila Hatter leads the viewer into the fields and forests, which for her are a "table always spread." With a storehouse of knowledge, she shares folklore, recipes, and remedies of familiar plants and trees. Included are identification tips and rules for responsible foraging. The video also features Dr. James A. (Jim) Duke, Ph.D., singing Ginseng.
Plants covered in Video #1 are: Revolutionary Tea; Lamb's Quarters; Mullein; Monarda; Mountain Mint; Spearmint; Plantain; Purslane; Jewelweed; Yellowroot; Ginseng; and Blackberry.
Wild Edibles Summer Video 2
Continue the roadside ramble and learn more about Mother Nature's table. Go back to a time when "most of what you owned you made yourself." Find out how to make wine, jam and pies out of elderberries, which also produces a cough syrup that will help flu! Listen as Ila Hatter tells the Cherokee Indian secret for curing a teething baby's drool! Did you know that blueberries help control blood sugar and are very useful in a diabetic's diet? Learn about Basswood – it makes a great tea that will actually calm your nerves! (Its bark will also make a strong rope.) Take a walk with Ila through the forest and identify edible plants and native medicinals! Don't miss this educational and enjoyable video!
From a rustic homestead hearth you are invited to "take a walk with Miss Ila to forage some wild foods for supper." You'll meet Cherokee Grandma and Marie Mellinger, a contributor/consultant to the famous Foxfire books. Here Ila Hatter offers medical facts, native wisdom, and fun anecdotes that inform and entertain all "backyard botanists" whatever their age. Authentic background music is provided by John C. Campbell Folk School and Sheila Kay Adams (Songcatcher).
Plants featured in Video #2 are: Elderberry; Sassafras; Basswood; Bloodroot; Joe Pye; Boneset; Horse Nettle; Ground Cherry; Blueberry; and Yellowroot.
"Interesting and authenticated folklore, told in a lively, down-to-earth fashion, about some of my favorite plants in one of my favorite places." Dr. James Duke, Ph.D., Plant Research USDA, retired
Wild Edibles Autumn Video 1
Enjoy the beautiful scenery of the Appalachian Mountains as you take a roadside ramble with Ila Hatter, the Lady of the forest. Learn about the way of life of the Southern Highlanders – the first settlers in this area of the country – and discover some of their mountain secrets! Discover the origination of the renowned 100-year old S.S.S. Tonic. The secret? Spicebush, Sweet Birch and Sassafras! Each one has healing properties of its own. Did you know the Sweet Birch acts as an aspirin? It's a painkiller and helps reduce inflammation. Learn old Indian secrets for how to cure coughs, make dyes and get rid of colds. This video even teaches you how to make Indian Lemonade out of sumac berries! It's a one of a kind walk with Ila. Come to understand Thoreau's meaning when he said, "The woods and fields are a table always spread."
A delightful journey awaits all who join Ila Hatter on a stroll through fields and forests. A visit with Grandma Swimmer reveals an unusual use for "wild spice." The "Doctrine of Signatures" is explained, as well as rules for responsible foraging. Beautiful scenery is enlivened with nature sounds, authentic mountain music, and the talents of Steve Kaufman, three-time National Guitar Champion.
Plants and trees in Video #1 of the Autumn Series are: Spicebush; Sweet Birch; Witch Hazel; Mullein; Black Walnut; Sumac; Corn, Beans and Squash; Wild Ginger; and Persimmon.
"A big plus of this walk through the countryside is that Hatter talks about Southeastern herbs – a region not covered in other herb walk videos." Kathi Keville, Editor, American Herb Assoc. Newsletter