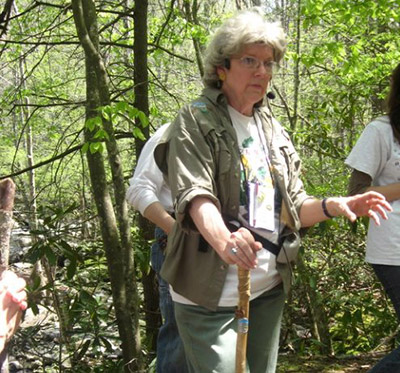 Ila Hatter, a descendant of Pocahontas, was raised on natural remedies along with a love and respect for nature. This led her into exploring the uses of native plants while living in the South from Texas to the Smoky Mountains, the Caribbean, Spain, and Southern Appalachia
Ila, known as THE LADY OF THE FOREST, is an interpretive naturalist, artist, wildcrafter, and gourmet cook with more than 25 years experience teaching the cultural heritage of native plants. She is a staff instructor for the Univ. of Tenn.'s Smoky Mtn Field School, guest instructor for the Great Smoky Mountains Institute at Tremont, the John C. Campbell Folk School (Brasstown, NC), The Mountain Retreat Center (Highlands, NC), Snowbird Mtn Lodge (Robbinsville, NC), Charter Board Member of the Yellow Creek Botanical Institute; and Storyteller for Elderhostels in 3 states. She has been featured in major newspapers, magazines, and TV shows. Her distinctive skills were even sought out by CBS for the TV series "Christy". The City of Knoxville, Tenn. commissioned Ila to coordinate and collect the natural history exhibit representing the Great Smoky Mtn. National Park in the city's Gateway Visitor's Center.
Hatter has recently released a series of instructional videos by her company, IRONWEED PRODUCTIONS , titled "Wild Edibles & Medicinals of Southern Appalachia" with authentic Appalachian music and folklore. She is the editor/publisher of "Roadside Rambles", a collection of wild food recipes; and edited "The Ethnobotany of the Cherokee", by Dr. William Banks, which will be published under the title: "Plants of the Cherokee". Ila is featured with renowned Cherokee elder, Amanda Swimmer, in the newest release funded by the Great Smoky Mountain Association: a video titled "Mountain Kitchen". UNC-TV (PBS) filmed Ila for the "Folkways" series with Host David Holt in a segment called "Wildcrafting". She was recently featured on national RFD TV network during April and May 2003. TurnerSouth will air "Southern Remedies" with Ila, from the Great Smoky Mountain National Park Pioneer Farmstead, in June of 2003.
Ila also collaborated with Cradle of Forestry to produce the documentary: "Women of These Hills II" – Stories of growing up in Appalachia from childhood to grandmotherhood, by women of Scotch-Irish (Mary Jane Queen), Cherokee (Amanda Swimmer), and African-American (Elizabeth Allen) heritage. She also collaborated with NC State University on a documentary about the dialects of North Carolina called "Mountain Talk"
A wonderful article on Ila appeared in nationally acclaimed COUNTRY magazine featuring wildflower folklore. The award winning OUR STATE magazine, in North Carolina, featured a 4 page article on how Ila sees and teaches the potential of weeds and wildflowers for the table and for the medicine cabinet.
Mission
Ila Hatter's mission is to tune people in to the many ways they can make Mother Nature's pantry and medicine cabinet their own. Hatter does not forage the woods in the hope of making a profit.  "In my case, I'm not gathering things to sell but instead am using them for education – teaching people what these plants are, how to identify them, what the traditional uses are, what the potential market might be for them. I combine my knowledge of the flora with folklore, telling interesting stories that go with the botany of what I do."  Her work is guided by a quote from writer Henry David Thoreau.  "Thoreau wrote that 'the woods and fields are a table always spread,'. To me, that's exactly what I do – that's what I teach."